Skip to Content
Our Staff Favorites
Looking for events and activities around Lisbon? Check out our staff's top picks. From interesting events to famous attractions, we'll give you an insider's look at all the best the area has to offer.
red robin bird
Get Away From It All in Gulbenkian Garden
Gulbenkian Garden is considered by its founders to be one of the most iconic modern gardens in all of Portugal. Only loosely geometric in its design, the garden is orderly enough to lend a sense of serenity within its suggested modes exploration. Gonçalo Ribeiro Telles, the garden's co-creator, offers visitors three walking itineraries that he believed best showcase the garden's highlights; the light and shade itinerary, the pond itinerary, and the rim itinerary. Experience the flickering dialogue between light and shade under the canopy of trees. Hear the accompanying songs of the birds indigenous to the plants and trees that have grown together since the 60s. And get lost in the reflection of the still ponds on a spring day. There's an interpretive center, too, where you can learn more about Ribeiro Telles and the lush stories hidden within the garden. The grounds are free and open every day.
movie film set
Monstra Animation Festival
Monstra is the name of Lisbon's annual Animation Festival and it's a monster of a good time. From March 18th through 29th, tour the exhibition of mixed mediums in Casa do Cinema or House of Film on Rua da Rosa. Here you'll see how artists from around the globe have manipulated a variety of art forms from drawings and paintings to sculpture and props to become animation. Some of the best-made animated films of the year will be projected for you to watch on the big screen. This year, to celebrate the festival's 20th anniversary, Monstra will feature a special exhibit dedicated to film director, Tim Burton. Learn more about puppetry and stop-motion movies and be inspired by Burton's original drawings from animated classics like 'Nightmare Before Christmas' and 'Mars Attacks!'. It costs only two euros to get in, and you don't have to bring the kids to come celebrate your inner child!
penguins
Dive In at the Oceanárium!
In Lisbon, you neighbor the Atlantic, but while you're there, did you know you could also visit the Pacific, Indian, and Arctic Oceans? It's true! Anything feels possible when you dive into the Oceanário de Lisboa on the shore of the Tagus Estuary. Inside, swimming to their heart's content, 8,000 sea creatures from 500 species in four ocean habitats delight millions of visitors from all over the world. Bigger than an aircraft carrier, the Lisbon Oceanarium entertains young and old for hours, whether getting up close and personal to the colorful pufferfish, or keeping a respectful distance from the Sandtiger sharks. And yes, there are cuddly penguins waddling around, too. On sunny days, you can rent a pedalo and make circles in the artificial boating lagoon. Tickets are available for purchase online so you can plan your visit well ahead of your arrival to Portugal's capital city.
sunrise in libson portugal
Unbeatable Winter Skyscapes
It may not sound like the warmest activity, nor the most dynamic, but nature paints an incredible winter sky over Portugal, and when you're in Lisbon, we don't want you to miss it. Morning and night, we think there are two must-see spots to catch the sun rise and fall. Begin your day early, very early, by getting to Miradouro de Santa Luzia. This romantic terrace in front of the church of by the same name offers sweeping views over the houses, churches and Tagus River down below. You'll have it all to yourself this time of year, and afterward, can enjoy a relaxing stroll through the narrow winding streets of the historic Alfama neighborhood. Later, before twilight, make your way to the Praca de Comercio. The sprawling public square is a spectacle in itself, but if you hike down to the patch of sand below, you'll be dazzled by an unforgettable sea-front sunset.
trapeze artist
See the Circus at the Coliseu de Lisboa
December in Lisboa can be cool and windy, so why not let it blow you inside the Coliseu de Lisboa? It's a famous old theatre house that hosts international and national concerts as well as a number of variety shows throughout the year. And every year during the holidays, the Coliseu de Lisboa reserves the space for the annual Christmas Circus. For the month of December, incredible acrobats, unbelievable illusionists, trapeze artists, cyclists, clowns and more perform to amaze and delight spectators of all ages. Check the website for more show and ticket information. On your way to the circus, peek in a bakery window to find a regional holiday favorite, Broas Castelares. They're a tender biscuit made from delicious and nutritious sweet potatoes and make a great treat to finish your pre-circus meal! What are you waiting for? Come see why December in Lisbon is a feast for the eyes and taste buds!
flea market copy
A Legacy Worth Shopping For
Let's face it, souvenirs can weigh you down—and not just your luggage. It can be hard work finding the perfect gift for your friend who already has it all. But not when you're shopping in Lisbon! We've got just the place. Five mornings a week, Tuesday through Saturday, you'll have a flea market full of choices at Feira da Ladra. Named after a bug for flea found in antiques, Fiera da Landra covers the pavement in Lisbon's centrally-located Campo de Santa Clara. Row upon row of great finds at great prices is almost guaranteed to give you a new problem—too many choices! With everything from antique pocket watches to vintage vinyl, shopping for even the toughest person on your list becomes a breeze. This stylish market is said to have had a place in Lisbon since the 12th Century, though the name Feira da Ladra wasn't recorded until the 17th Century. It's a legacy worth shopping for!
hot couple on the red carpet
See and Be Seen at DocLisboa
They say that in October, the whole world fits in Lisbon. Why? Because everyone (who's anyone) descends upon the city to see DocLisboa. It's Portugal's annual international documentary film festival. The 10-day event, beginning on October 17th, plays host to independent, uncategorized film productions made by filmmakers from around the globe. There are more films than we care to count with stories best left to their tellers—so just go and learn, challenge your perspectives, get inspired, and be entertained. Seven silver screens will show the films and you can pay to see just one or buy a voucher to see 20. And while you watch, some will be picking winners. Opening and closing soirees bookend a week of live musical performances that pay tribute to world-famous artists Depeche Mode, Joan Jett, Aretha Franklin, and more. Tickets go on sale beginning October 3rd at the central ticket office or online at Ticketline.
friends at music festival concert
Festa do Avante
Jam on in the splendor of summer at the Festa do Avante, taking place in Quinta da Atalaia from September 6th until the 8th. One of the oldest Portuguese summer festivals, expect a great variety of artists and performers from all regions and genres including politics, cinema, theater, and fabulous food mixing to the rocking rhythms of the sultry soul-kicking beats. Artists performing at this year's Festa do Avante are mostly Portuguese. On the docket are Expensive Soul, Clã, Moonspell, Ana Bacalhau, Throes and the Shine, and many others! It's a multicultural, interdisciplinary space where you are guaranteed to meet and spend time with the locals while swapping perspectives and dreams. Quinta da Atalaia is an area within the Bairro Alto neighborhood of Lisbon. Leave time en route to the festival to tuck into any number of inviting bars and cafes to sip with the locals. Bring your camera for a full day of photo-ops!
saxophone player
Jazz to Make Change Happen
Portugal's premier music festival, Jazz em Agosto, or "Jazz in August" begins on the 1st of the month and swings straight through to the 11th. Fundação Calouste Gulbenkian hosts the annual event, with this summer marking its 36th year. National and international artists have been invited to perform in the auditorium during the afternoon and in the open-air amphitheater, both set within the Calouste Gulbenkian Garden near the Center of Modern Art and the Calouste Gulbenkian Museum. "Resistance" is this year's theme, and the festival opens with Marc Ribot's rebellious project, 'Songs of Resistance', composed in response to the volatile social and political contexts in the United States. Joining his cry will be jazz superstars, Heroes Are Gang Leaders, Burning Ghosts, Nicole Mitchell, and Ambrose Akinmusire. Their collective motto: It's music to make change happen. Music to make sure nothing stays the same. Tickets and festival passes are available online HERE.
aerial view of the beach
Cool Off at the Beach
Lisbon gets hot in July, so do as the locals do and beat a path 'a praia' or to the beach. You'll pass blooming begonias on the way as the sun streaks your journey to the sand at Cascais and Estoril. Both are about a 20-minute drive from the center of Lisbon. Pack a picnic or indulge in the regional seaside classic: a plate of garlicky 'ameijoas', or clams, washed down with a tumbler of ice-cold Portuguese lager. When you're ready to walk off your lunch, try out the Cascais-Estoril promenade. It begins in the quaint fishing town of Cascais and ambles its way to the equally inviting village of Sao Joao do Estoril. You'll follow sea walls and natural boundaries that line the beaches so you can keep your eyes on the view instead of your feet. Go ahead and relish in a refreshing day at the beach!
sardine decoration
Festas de Lisboa
Celebrate June with the Saints! Special this month is the annual Festas de Lisboa, religious festivals-turned-street parades that pave the cobbles with costumed dances, drink, and traditional food. On this occasion, that food is the celebrated Portuguese sardine! Taste them fresh from the grill, blackened, or barbequed on a chunk of toasted bread. Just follow your nose, and the crowds, to pick your fish of choice.
June 12th and 13th, the streets will be decorated with flowers, lights, and garlands, practically vibrating with music. Even if you don't pack a costume, plan to wear your best. Every year, the Lisbon City Council finances more than two dozen weddings for couples who can't afford the ceremony on their own. Go ahead! You're invited and encouraged to march with them down the avenues.
If you miss the parade, visit the Castelo and Alfama neighborhoods anyway. Have a drink and a sardine to celebrate!
Golf versus Footgolf
Golf or Footgolf? I had never tried any of these sports, and I tried both on the same day.I can say that for someone that had never touched a golf club, I was not that bad
If, like me, you've never been to a golf course, this is the perfect place to do so. In addition to learning with a professional, you will enjoy an inspiring landscape. And you will need lots of inspiration! There are so many details you will need to learn before hitting (or trying to hit) the ball.
And with inspiration comes learning. There are 3 different clubs to use in class, each one with a specific role, explains the instructor. But golf is much more than just hitting the ball, it's about making a continuous and fluid movement and that's where the difficulty lies...Never take your eyes off the ball and you'll find the shot will be just perfect (at least once!)


Learn More
7958
March to the West
If you prefer the pool to the smell of sardines!
In June the fine weather is finally here to stay and it's time to enjoy the long summer days in the best possible way.
All over the country popular festivals take place. Lisbon, only a 30-minute ride from our resort, becomes the city of celebrations. If you like traditional dancing, you just need a 30-minute ride to be in the heart of all the amusement. However, our suggestion is not about sardines and basil.

Leave the crowds behind and march towards the Oeste where you will find all you need to rest. Start by getting tanned in one of our 2 outdoor swimming pools. You can choose the main pool at the hotel with bar service and a wonderful outdoor jacuzzi, the perfect place to enjoy a cocktail. If you're bringing children along, we suggest the Sunset swimming pool, located next to Welly Kids Park!
Learn More
7
Summer Days at CampoReal
Would you like to make the most of this summer? Then, follow the tips we have for you and benefit from the long sunny days in the West of Portugal.

It may sound obvious, but we have to tell you about our wine heritage! Surely you have already heard about the wonderful wines and the various farms that organise wine tastings where you can delight yourself with the region's refreshing white wine.

But the Oeste is more than just wine.
Learn More
aerial view of augusta street in lisbon
See Lisbon from Above
In Portugal, May is the doorstep to summer. So get a bird's-eye view of the city in waiting by climbing Rua Augusta's Arch. It rises from the heart of downtown Lisbon, originally built to commemorate the reconstruction of the city after a devastating earthquake in 1755. What many may not know is that in 2013, the interior of the arch was opened to the public. That means you can climb the spiral staircase or ride the elevator and take photos from a perspective you just can't achieve from anywhere else. Time it just right to catch the sunset before continuing on to Praça do Comércio. Rua Augusta is closed to traffic but is bustling with colorful shops, restaurants, cafes, and bars to sit at and watch the world go by... and to look up at the top of the arch you just climbed! Tickets sold at the arch, just bring your walking shoes and a sense of adventure.
carnation flowers
Celebrate Freedom
Grab a carnation and celebrate freedom! April 25th is a national holiday in Portugal that has its roots in the year 1974 when soldiers took to the radio calling for an end to the dictatorship and a beginning to democracy. "Fighting" to the tune of the then government censored music, a revolution was born, but with many brandishing carnations in lieu of bullets. Soldiers put them in the barrel of their guns, and the civilians on their chest. It's also why the 25th of April got to be known as the "Revolução dos Cravos" or Carnations Revolution.
Ever since, a parade has taken place on that historic day, starting at the Praça Marquês de Pombal and ending at the Praça dos Restauradores. All ages and persuasions take part, but everyone has a flower. So grab yours, and celebrate the hard-earned freedom you have to explore this fabulous city.
opera house
Dress for the Opera at Teatro São Carlos
Once you've seen all of Lisbon's beautiful exteriors, from its historic cobbled curves and romantic river cruises to its craggy hilltop castles, treat yourself to a ticket inside one of its most glamorous artistic venues. Teatro São Carlos is the sparkling refurbishment of Lisbon's original Opera House leveled by an earthquake way back in 1755. It reopened its doors in the city's Chiado neighborhood in 1793 and has played host to world-renowned operatic and symphonic performances ever since. Lauded as the city's theatrical masterpiece, Teatro São Carlos maintains its historical integrity while welcoming the best and brightest the stage has to offer. Performances are scheduled every season. Looking ahead to summer, tumbling into the square in front of the Teatro São Carlos, will be outdoor classical music concerts and performances. These are free to the public and a must-go during the warmer months when daylight lingers well into the evening.
sunset cruise
Cruise the Tejo River at Sunset
Though warmer weather begins to brighten Portugal in February, it's still considered to be an off-peak tourist month. So get ready for good news. Prices for activities are cheaper and with fewer foreigners to rub elbows with, you and the locals will practically have the city to yourselves!
So after winding through the streets bursting with their colorful cafes and boutiques, why not roll up to the dockside for a different perspective and cruise the Tejo river. BYX is one boating company that offers sunrise and sunset tours that, ride after ride, shine a romantic light on Lisbon's photogenic landmarks. Both boat cruises last about two hours with a drink, each included in the ticket price. At 69,90 euros for two, the river tour could make for a very special Valentine's Day memory for you and your sweetheart. Find the boat at Belém and climb aboard for an unforgettable ride.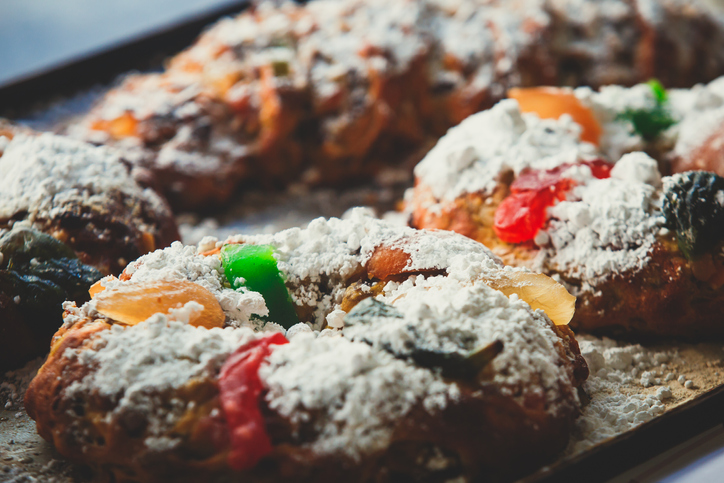 king cake bolo rei
Sample Portugal's Seasonal Sweets
Don't miss some of the holiday season's sweetest and most festive treats unique to Portugal. Almost anywhere you dine, you'll find these winter favorites decorating cafe menus. Read our list of the top three holiday treats to try so that you can prime your taste buds first.
"Bolo-Rei," or "king-cake" in English, is a traditional Lisbon dessert served only at Christmastime. Its name refers to the Three Wise Men who visited Jesus when he was born. Studded with candied fruits and dusted with sugar, it even looks like royalty.
Rabanadas are another Christmas delicacy. A cousin to French toast, this Portuguese egg bread is practically pastry. Indulge in a variety of flavors from chocolate and cinnamon to lemon and orange.
Finally, aletria, or sweet pasta is a dessert made from vermicelli. The tried and true recipe includes egg yolks, milk, sugar, lemon or orange peel, and cinnamon.
Save room and try all three!
lisbon portugal cityscape
Walking in the Footsteps of Royalty
If the sun fades during your Autumn sojourn to Torres Vedras, trade sand for castles to explore a history that predates Portugal itself. Forte de São Vicente hugs the highest hillside within Torres Vedras. A younger site by Portuguese standards, it was built to defend against Napolean's army in the early 19th century. Castelo de Torres Vedras dates back to Roman rule and rises above the steep forestland north of the city center. Portugal's first king lived here, succeeded by several others. By clearing the trees and terra-cotta rooftops, you'll enjoy panoramic views back over the city. Both sites mark points of interest along the Grande Rota das Aldeias Históricas, a walking trail that covers 600km. Hop on the trail to join the backpackers or hire a guide to lead your journey. The trail is divided into 12 parts to make it accessible to all. Click here for more information.
couple drinking wine
Exploring Lisbon's Wine Country
After you've sipped and savored a few new favorites in our restaurants, get out to explore the wineries in and around Torres Vedras. Wines here capture the unique characteristics of the Lisbon Region which was once known as Estremadura. It runs alongside the wind-swept Atlantic Ocean and stretches inland to the DOC regions of Torres Vedras, Óbidos, and Alenquer, where some of the region's leading wineries are located.
Famous for its traditional whites and easy drinking reds, this picturesque countryside west and north of Lisbon boasts a total of nine DOC regions growing indigenous and international grapes, including Chardonnay, Sauvignon Blanc, and Cabernet. Many of the region's wineries are open to the public for tours and tastings, including Torres Vedras' stunningly architectural Adega Mãe and the award-winning Casa Santos Lima, which is said to be the largest producer of "Vinho Regional Lisboa" and "DOC Alenquer."
À sua saúde!